18inch Black Basin Powered Woofer Professional Speaker
Basic Information
| | |
| --- | --- |
| Model Number | YR-460 |
| Frequency Range | 30-1800Hz |
| Sensitivity | 97.2dB |
| Magnet | Neodymium |
| Program Power | 1600W |
| Voice Coil | 100mm/4inch |
| Impedance | 8ohm |
| Packing Size | 48*48*23.5cm |
| Transport Package | Carton |
| Trademark | TYR |
| Origin | Guangzhou, China |
Product description
1. Nominal Diameter: 460mm/18.1inch
2. Rated Impedance: 8ohm
3. Power Handing Capacity: 800W
4. Program Power: 1600W
5. Sensitivity 1W/1m: 97.2dB
6. Frequency Range: 30-1800Hz
7. Effective Piston Diameter: 395mm/18.0inch
8. Minmum Impedance: 6.3 ohm
9. Voice Coil Diameter: 100mm/4inch
10. Voice Coil Material: Copper
11. Voice Coil Winding Depth: 25mm/0.9inch
12. Number of Layers: 2
13. Kind of layer: Outside
14. Thickness top plate depth: 9mm/0.4inch
Thiele-Small Parameters
1. Resonance Frequency: 32Hz
2. DC Resistance: 5.4 ohm
3. Mechanical Factor: 10.19
4. Electrical Factor: 0.34
5. Total factor: 0.33
6. BL Factor: 25.6 Txm
7. Effective Moving Mass: 207.1gr
8. Equivalent Cas air load: 259liters
9. Effective piston area: 0.113mm
Mounting Information
1. Overall Diameter: 470mm/18.5inch
2. Bolt Circle Diameter: 438mm
3. Bolt Hole Diameter: 8mm/0.3inch
Baffle Cutout Diameter
1. Baffle Cutout Diameter: 425mm
2. Bolt Circle Diameter: 440/8mm
3. Net Weight: 12.2kg/pcs
4. Shipping Weight: 13.5kg/pcs
5. Package: 1pcs/ctn
6. Packing Size: 48*48*23.5cm
Product Features:
1. 18inch woofer
2. 4inch voice coil, inner and outer winding, high temperature resistant coil
3. Thick bass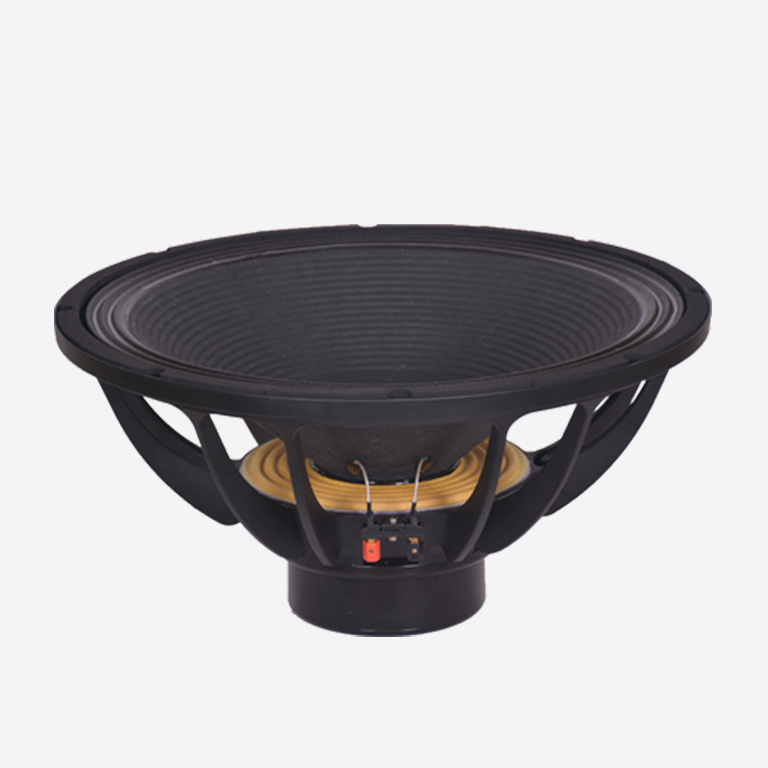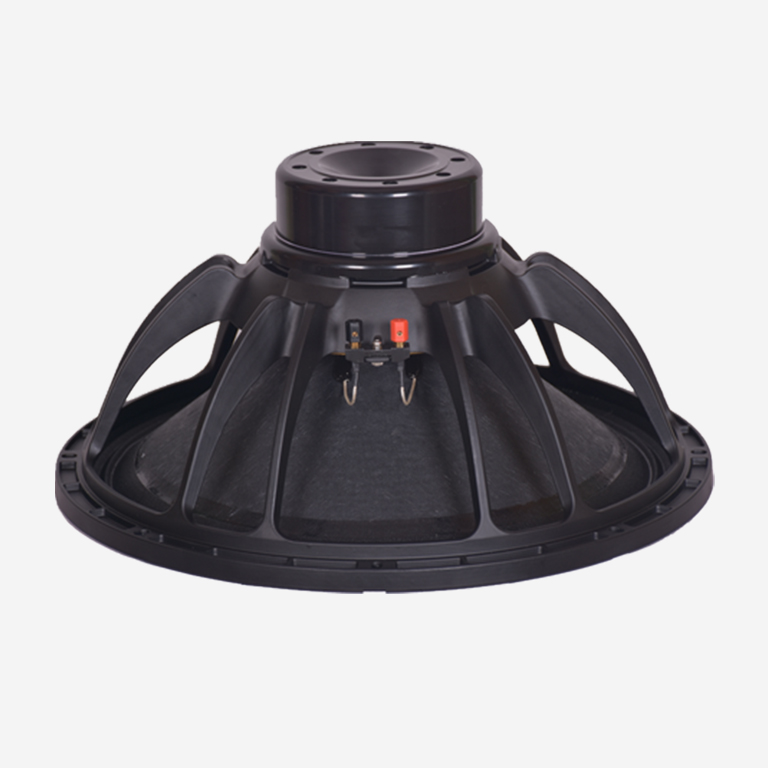 Packing Details
Package:1pcs/ctn
Packing Size: 48*48*23.5cm
QTY(40HQ): 1259PCS
Why choose us?
A: We've been a professional speaker manufacturer for over 10 years

We are the great speaker manufacturer in China.
OEM/ODM services are acceptable.
Our service:
A: We have our own factory, we can make any design and brand
We can do with your requirements
We have more than 7 engineers for RD, we can finish your samples in 3-7days
Our capacity is over 90,000 pieces a month, we never delay your shipments.
We will strictly control the quality, 100%inspection before shipment.
Warranty service:
A: Before the delivery, we will check the items' quality strictly one by one.
If it is caucesd by the shipping accidents, we will not responsible for it.
What is the terms of packing?
A: We pack the goods in a brown box with paperboard and 12pcs/box.
How about the supply?
A: We can produce 90,000pieces per month.