TYR-12-300B 12inch Black Basin 170 Magnet 65 Core Professional Woofer Speaker
Basic information
Model number: TYR-12-300B

Nominal diameter: 300mm/12inch
Power capacity: 300W-400W
Frequency range: 35-1500Hz
Voice coil material: Copper
Voice coil diameter: 65mm/2.5inch
Nominal impedance: 8ohms
Magnet: Ferrite
Sensitivity: 93dB
Specification: 12inch woofer
Package: Carton
Packing Size: 34*34*36cm
Trademark: TYR
Origin: Guangzhou, China
General specification
| | | |
| --- | --- | --- |
| Nominal Diameter | 300/12 | mm/inch |
| Rated Impedance | 8 | Ω |
| Power Handing Capacity | 300 | Watts |
| Program Power | 400 | Watts |
| Sensitivity | 93 | dB |
| Frequency Range | 35-1500 | Hz |
| Effective Piston Diameter | 263/12 | mm/inch |
| Minimum Impedance | 6.4 | Ω |
| Voice Coil Diameter | 65/2.5 | mm/inch |
| Voice Coil Material | Copper | |
| Voice Coil Winding Depth | 16/0.9 | mm/inch |
| Number of layers | 4 | |
| Kind of layer | Outside | |
Thiele-Small Parameyers
| | | | |
| --- | --- | --- | --- |
| Resonance frequency | Fs | 52 | Hz |
| DC resistance | Re | 5.4 | Ω |
| Mechanical factor | Oms | 2.55 | |
| Electrical factor | Oes | 0.44 | |
| Total factor | Ots | 0.376 | |
| BL factor | BL | 15.2 | Txm |
| Effective moving mass | Mms | 80.6 | gr |
| Equivalent cas air load | Vas | 49.5 | liters |
| Effective piston area | Sd | 262 | mm |
Mounting Information
| | | |
| --- | --- | --- |
| Overall Diameter | 300/12.5 | mm/inch |
| Bolt Circle Diameter | 296 | mm |
| Bolt Hole Diameter | 6/0.3 | mm/inch |
Baffle Cutout Diameter
| | | |
| --- | --- | --- |
| Baffle Cutout Diameter | 281 | mm |
| Bolt Circle Diameter | 301/8 | mm |
| Net Weight | 4.25 | kg/pcs |
| Shipping Weight | 4.75 | kg/pcs |
| Shipping Box | 34*34*36 | |
Product Photo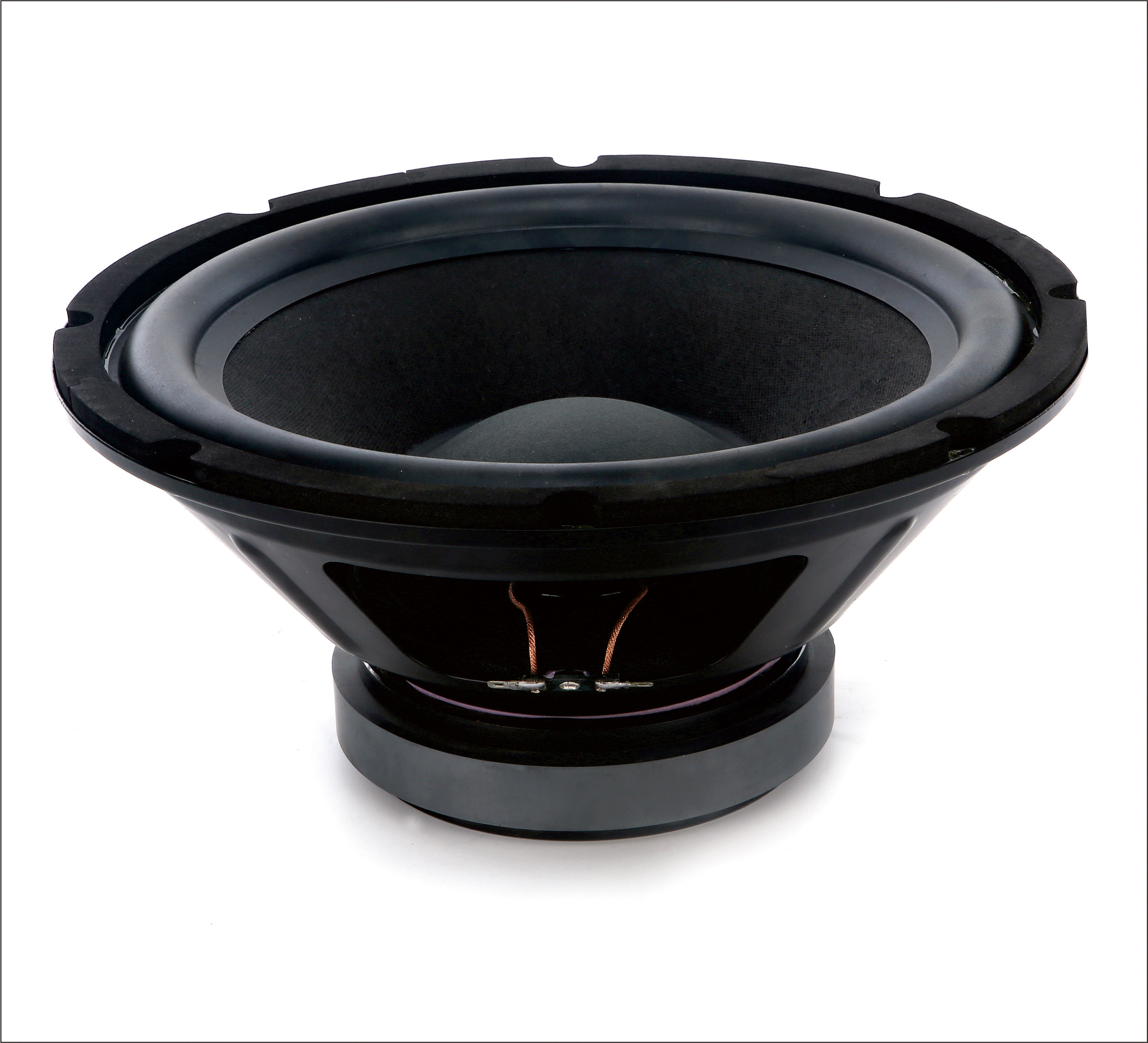 Product Features:
1. 12inch Woofer
2. 3inch voice coil, 4 outer layers, high temperature resistant coil
3. Thick bass
Packing Details:
Package: Carton box with paperboard, 2pcs in a carton
Carton color: Brown
Packing size: 34*34*36cm
QTY 40HQ: 1658CTN
Why choose us?
A: We are the professional speaker manufacturer in China.
We have our own factory, we can provide the best price and promise the price.
OEM/ODM service are acceptable.
Our service:
A: We have more than 7 engineers for RD, we can finish your samples in 3-7 days.
We have 6 production lines and our capacity is over 7000pcs a day, we never delay your shipments.
We strictly control the quality, 100% inspection before shipment.
Are you a factory or trading company?
A: We have our own factory and located in Baiyun district, Guangzhou.
What is the terms of packing?
A: We pack our goods in a brown carton with paperboard.
What is the payment terms?
A: T/T 30% deposit, T/T balance before delivery.